Open the door to HOME.
Discover inspired entryways from the brand professionals use most.
Celebrate style with our Expressions 2018 new products.
We continually update our products to evolve with the styles that celebrate your individuality and creativity. Which style trend reflects you and your home the best – Casual Comfort, Bold Statements or Renewed Classics?
Learn More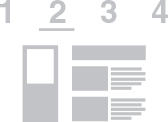 Prefer a guided process?
We'll ask you four simple questions to help narrow down your favorite choices.
Design Your Door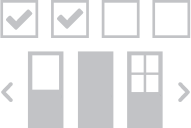 Prefer to browse all doors?
Our easy filtering helps you find options with the features you want most.
Browse All
Picture a new door on YOUR home.
Each style and personality is unique to every homeowner. Therma-Tru offers a wide range of styles and options for the look you want — in a complete door system that is engineered to work together. See what your dream door looks like on your house.
Get the DoorWays App
Tag your #ThermaTru photos on Instagram or Twitter
for a chance to be featured and inspire others