Classic roots meet the 21st century with today's homeowners bringing fresh updates to their living spaces with a modern twist on the classics. Formal designs are softened and mixed with modern décor. Homeowners are highlighting architectural details while adding warmth to their home with colors, textures and finishes of must-haves as they try to make their home feel more peaceful and connected to the earth.

Lightened Up Formality
Spaces with formal design elements are taking on a lighter, more airy feel with colors shifting toward teals and grays. Softened hues and lightened wood grains combine with darkened accents to create contrast that turns these formal spaces into more inviting living areas.

High Contrast Details
Contrasting colors add visual interest and drama, creating focal points in today's homes. Tuxedo cabinets in the kitchen highlight this trend, pairing darker floor cabinets with lighter upper wall cabinets. Trim, molding and other accents around the house are also being highlighted by use of contrasting colors.

Plush Velvet
Soft, luxe textures are the perfect complement to rich architectural details and colors. Smooth, velvety materials with a plush feeling bring warmth to a room while giving a nod to the classic styles of the past and bringing them into the 21st century.

Polished Personality
High gloss. High style. The classic black hue takes it up a notch with a glossy finish. You'll find this on furniture, cabinets, frames and other decorative accents in the home, adding a lustrous touch to any space.

Unexpected Mix
Opposites attract as historic-inspired elements with classic design find their way next to fresh, contemporary pieces. The mix of the two creates a unique, unexpected look in the home that's sure to turn heads.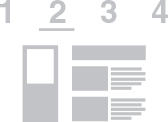 Ready to find your door?
Our Design Your Door tool will walk you through the process in four simple steps.
Design Your Door

See it on your home.
Download the DoorWays App today.
Download