Today's homeowners are turning toward eco-friendly and organic decor elements to welcome nature into their homes. Plants, exposed wood and lots of natural light rank high on their list of must-haves as they try to make their home feel more peaceful and connected to the earth.

Dramatic Wood
The look of real wood appears in many homes across the country. Whether it's exposed beams, entire walls or front porch flooring, homeowners are choosing to make the authentic look of wood a staple in their homes.

Shades of Green
Homeowners want to feel connected with nature and are bringing various shades of green into the home as a result. In fact, the Pantone Color Institute has named Greenery as the 2017 color of the year. It complements other organic elements in the home, including natural
wood tones.

Let More Light In
Large windows are growing more popular in both new construction and remodeling projects. Homeowners want to be able to see outside while experiencing lots of natural light inside. Floor-to-ceiling windows, entire walls made of glass and doors that predominantly feature glass are also trending.

Jewel Tones
Rich gem-like hues are the perfect way to add pops of color to any home. Bold blues, vivid pinks, deep purples and more lend a retro vibe while also pairing nicely with dramatic wood tones for a subtle nod to nature.

Seamless Living
Today's homeowners' love of nature stretches beyond the walls of their homes as they seek outdoor living areas. Pergolas, outdoor kitchens, fireplaces and patio furniture all promote the seamless living lifestyle that homeowners are craving.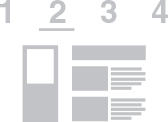 Ready to find your door?
Our Design Your Door tool will walk you through the process in four simple steps.
Design Your Door

See it on your home.
Download the DoorWays App today.
Download