Create the authentic look of real wood in just a few simple steps with our Same-Day Stain kit.

Watch the video for staining instructions.
Our Same-Day Stain Kit contains everything you need to finish a complete double door system or a complete door system with two sidelites: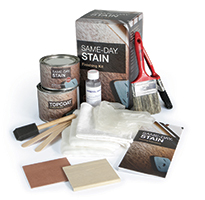 (1) 16 oz. Can of Stain
(1) 20 oz. Can of Topcoat
(1) Foam Brush for Stain
(1) Pair of Gloves
(1) 3" Natural Brush for Stain
(1) 2" Synthetic Brush for Topcoat
(1) Staining Rag
(2) Cleaning Rags
(1) 4 oz. Bottle of Mineral Spirits
(2) Stir Sticks
(2) Fiberglass Test Samples
Step-by-Step Instructions
To order a finishing kit, please complete the form below or call 1-877-99-STAIN
Orders are shipped using standard ground shipping. Shipping will be added to the total of your order along with sales tax, if applicable.
Therma-Tru makes it easy to stain your entry door in just a few simple steps. Watch the video to see how.
Specially formulated for Therma-Tru® fiberglass doors.

Achieves professional-looking results with an easy-to-use, quick-drying formula.

Colorfast stain resists fading, bleaching and yellowing to create a beautiful finish.

Finish colors come in a variety of shades to complement your home's style.

All-Inclusive Kit: Contains everything needed to stain a Therma-Tru fiberglass double door system or a single door with two sidelites.*
*Actual coverage may vary based on product selected, application method and desired appearance.