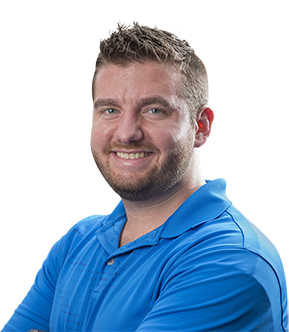 "I would have never imagined how much actually goes into making a door."
Nickname

Freddy

How long have you been at Therma-Tru?

Since 2011

Favorite Therma-Tru Product

I like the wood grain look of our Fiber-Classic and Classic-Craft doors.

How do you spend your day at Therma-Tru?

Working with the steel door line and coil line.

Favorite Food / Restaurant

Sushi or Prime Rib

Activities / Hobbies

Snow and water skiing, boating, hanging out with friends, working out, enjoying the outdoors.

Super Hero Power

Being able to fly.
Best Piece of Advice

Ask the right questions in order to get the right results.

What motivates you?

Being successful

What's your motto?

Work hard play hard.

What's playing in your car right now?

Summer Hits 2015 Road Trip Radio on Pandora.

What's the craziest thing you have ever done?

Went sky diving and the guy attached to me couldn't stop shaking after we landed for about 10 minutes… it made me very thankful that we landed safely.

What advice can you give people who aspire to be where you are?

Ask questions to understand the whole problem before you try to fix it and practice good communication throughout the plant not just where you work.